Good day all you lovely people!
As promised, another post up!
In this post, I'm going to review and talk about one of the most luxurious and extravagant dining

experiences I've ever had.
Everything
was
perfect and exquisite.
From the moment we hopped on the ferry to the captivating Rose Bay and
to the second we left the enchanting place, everything was sublime.
So the bff and I wanted to dine at some sumptuous place and after thorough research,
Just like the Michelin's ranking system awarding Michelin stars to restaurants across the globe, Australia is under the Age Good Food Guide (AGFG) ranking system awarding HATS to the finest and most prestigious restaurants in the land down under.
I'm not entirely sure if this hatted system is only for Aus or for other countries too but all I want to say is that this restaurant we settled on is a hatted one.
So we had great expectations and we were most definitely eager for them to be met.
CATALINA RESTAURANT, ROSE BAY, SYDNEY.
Perched right on the edge of the
crystal and glistening waters
in Sydney's Rose Bay, Catalina dining experience greatly offers a prepossessing harbour, coupled with exceptional compelling food.
Dishes on the extensive seafood menu are exquisitely cooked and well presented.
On top of that, guests can sit back and relax with their well matched champagne spectating sea planes take off and land on the beautiful waters of Rose Bay. :)
With breathtaking views of Sydney harbour, one can soak up Sydney's beauty by indulging in delicious food overlooking the water at Catalina.
There's unquestionably no place more wonderful to be on a beautiful bright day than Catalina, a quintessentially Sydney experience with majestic floating seaplanes gliding over the sparkling waters.
There you have it. The simple and beautiful Catalina on a sunny perfect afternoon. :)
Dressed up for our dining experience. An obligatory shot at the entrance.
It was COLDDDDDD. So it was a quick shot and off we went in to be treated like royalty. :)


So, while I was a little too free planning this, I did alot of background
check on the place and discovered all the celebs who dined there.

To make my post more
'electrifying and dramatic'
,
let me include what I discovered.
There's Nicole Richie and hubby Joel Madden leaving Catalina.
Charlize Theron and her cute little boy, Jackson Theron.
Tyra Banks
celebrated her 41st birthday in Catalina.
Katy Perry arriving Catalina.
The forever gorgeous Miranda Kerr.
.. and OF COURSE, one of the reasons I wanted to pay this place a visit.
Emily VanCamp and Josh Bowman.
Huge crazy fan girl right here! :))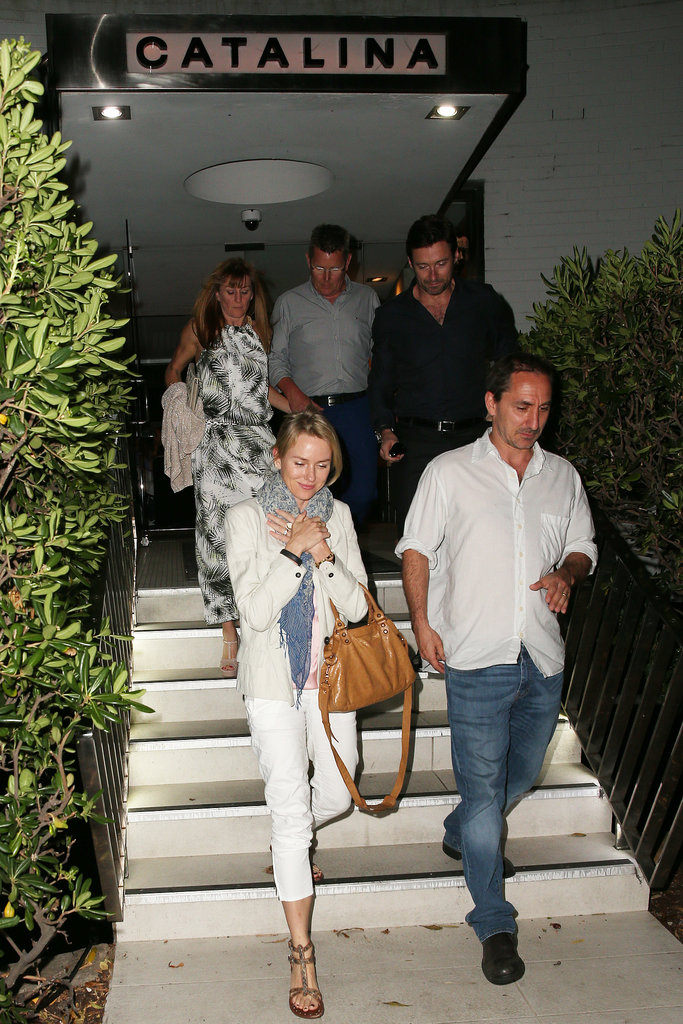 Hugh Jackman and Naomi Watts doubled up on their Aussie power for a fun date night with their significant others.
.
.
.
Now back to reality. Back to us.
:)
It was such an incredible setting overlooking the most gorgeous view.
The serene feeling of mother nature overwhelmed every bit of me whilst looking out
the window from our perfect table and having our warm sour bread while
flipping through the A list menu.
Watching the pelicans land gently on the balcony and the water lapping
against the shore can wash away the stresses of life for awhile.
Hello there from us
'sophisticated ladies'.
lollll.
Like for once we 'behaved' and left our 'cuckooness' locked away.
Somewhere farrrr farrrr away while we were amongst 'royalty'.
And so.. To start of the food review..
1. Entrée
Catalina house smoked salmon, soft boiled duck egg, truffle mayonnaise and brioche.
Perched atop a piece of grilled golden brioche and taking centre stage, the soft boiled egg looked spectacular with a section of white removed and the yolk oozing down to the plate.
It was a mini waterfall of nothing but goodness.
I can assure you, it's THE BEST appetizer I've had in my life.
The combination of each and every single element in this perfectly designed dish just calls for a standing ovation.
A round of applause to the head chef Mark Axisa for this mind blowing creation.
Crispy scaled Chatham Island Blue Cod, with zucchini ribbons,
mixed mushroom ragout and pancetta lardons.
Heaven in a plate is all I can say for this one. The Blue Cod
was the perfect seafood for this style as the butter had the
optimum ratio of salt and sugar that goes absolutely well with the zucchini ribbons.
The crisp on the fish was
touché

!
RATING: 4/5
Smoked duck breast,
confit duck Maryland, rhubarb tart
and sauteed kale.
The xfactor of this dish is none other than the rhubarb tart. (below the duck).
Together with the duck, it gives you an ultimate explosion in your oral cavity.
Such burst of intricate flavours that sends you out of this world.
RATING: 4.5/5
Lastly,
3. DESSERT
Champagne jelly with gold leaf and raspberries, pomegranate and raspberry ripple ice cream.
This is no doubt the most orgasmic dessert one can ever have.
Its literally a detonation on your tongue. LOL.
That was the exact words I told the bff when I had my first tasting of it.
It was gorgeous to look at and even more divine to eat with fresh raspberries
and dried strawberries which were FREAKING A.M.A.Z.I.N.G.
The champagne wasn't too overpowering.
In fact, it gave more flavour to the ice cream and all that was on this platter of perfection.
THUMBS UP!
RATING: 4.7/5
Just ignore our ultra ugly faces here. I just love the background! It looks like a painting. :)
The loo. LOL. We had too! lolll. Sophistication on hold. :P
And so.. That concludes the most expensive, sophisticated, glamorous and SPECTACULAR (think of all the incredible adjectives) lunch I've ever had.
The bill was a bomb but it was soooo worth it and I know you won't really understand even after all my fancy description above. SO PLEASE TRY ITTTTT if you ever visit Sydney. You'll see how right I am because I know right now every single explanation seems overemphasized from your POV.
But trust me on this one. You have my word. :)
P.S. :

Wanna be

Augustus Waters or Christian Grey?

Impress your girl by enhancing your Catalina dining experience by taking a Seaplane flight over Sydney Harbour and land right in front of Catalina restaurant in Rose Bay. It was a little something I discovered in their website while checking them out. LOL. You're welcome. :)
If only I was a guy. I'm sure every single girl will melt in my hands. AHAHAHA. *evil grin*
kidding! have a nice day folks!
SIGNING OUT!